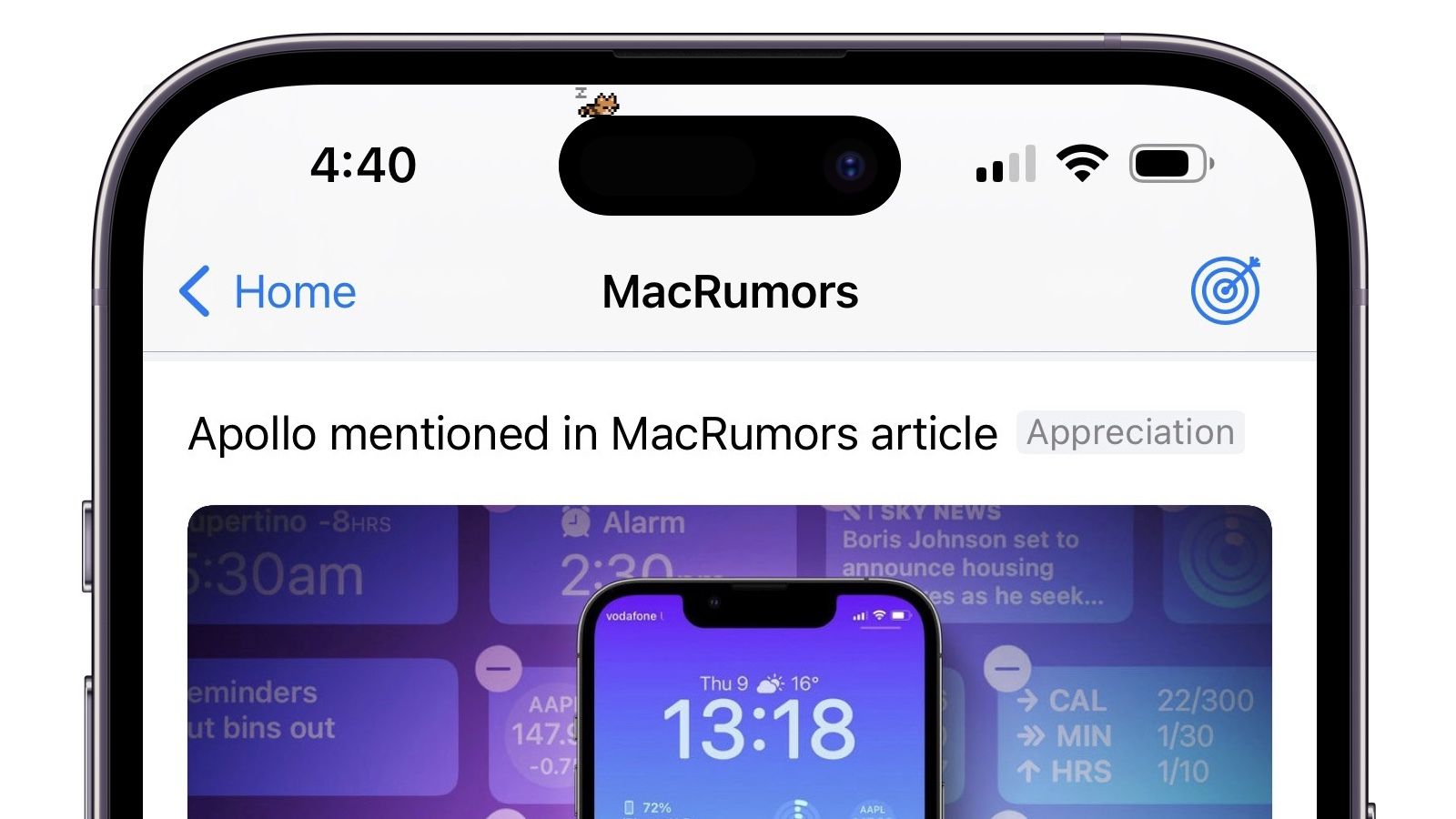 The popular Reddit app Apollo was updated today with support for the iPhone 14 Pro and Pro Max, and Apollo developer Christian Selig decided to implement a fun little feature – a "tamagotchi" for Dynamic Island.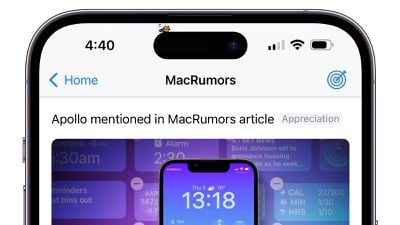 The app update adds a tiny little creature to the area above the Dynamic Island on the new iPhone models. It can be customized as a cat, dog, hedgehog, fox or axolotl, and the little creature simply walks around the dynamic island while you browse Reddit.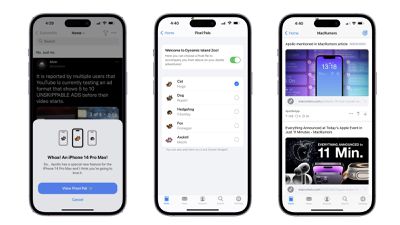 The new "Dynamic Island Zoo" option for Apollo is opt-in and it is available with the latest version of the app. Selig has also added the little creatures as lock screen widgets, so those who don't have an ‌iPhone‌ with a dynamic island can also add a creature to their device.
Ok, I think I found the best idea for Dynamic Island on iPhone 14 Pro. I added a cat that lives up there like a tamagotchi and just hangs out and does cute things while you browse reddit in my app (Apollo). pic.twitter.com/xJJlazHH4E
— Christian Selig (@ChristianSelig) 16 September 2022
Earlier this week, Apollo was updated with iOS 16 support, so there are also a number of other Reddit-related widgets available to those running the ‌iOS 16‌ operating system.
Apollo can be downloaded for free from the App Store. [Direct Link]
Popular stories
iOS 16.1 adds battery percentage to iPhone 13 Mini, iPhone 12 Mini, iPhone XR and iPhone 11 status bar
Apple in iOS 16 updated the battery icon on iPhones with Face ID to show the specific battery percentage instead of just a visual representation of the battery level. At launch, this feature did not include the iPhone 13 mini, iPhone 12 mini, iPhone XR, or iPhone 11, but according to multiple reports from the MacRumors forums and Twitter, all of these iPhones now support the feature….
16 Hidden iOS 16 Features You Didn't Know About
Apple this week launched iOS 16, the latest version of iOS with a new customizable lock screen, big new additions to Messages and improvements to Mail, Maps and more. Apart from the main features, there are a number of quality of life changes, improvements and new features baked into iOS 16 that help improve the iPhone experience. We have listed 16 hidden features and changes…
Apple confirms that iOS 16 battery percentage display is not available on some iPhone models
Following iOS 16's public release, Apple has confirmed that users of older generation iPhone models will miss out on the ability to display their iPhone's battery percentage directly in the status bar. In an updated support document, Apple says that the new battery percentage display is not available on iPhone XR, iPhone 11, iPhone 12 mini and iPhone 13 mini. Apple provides no…
Apple confirms iOS 16 bug affecting new device activation as iPhone 14 orders start arriving
Apple has confirmed that customers activating new iPhones may encounter an issue where device activation during initial setup does not go through on Wi-Fi, saying the issue is "under investigation". In a note seen by MacRumors, Apple says that "there is a known issue for iOS 16 that may affect device activations on open Wi-Fi networks." To fix the problem, Apple says customers should…
Does iOS 16 cause battery drain? Three possible reasons why and how to fix
If you updated to iOS 16 this week, you might notice that your iPhone battery is draining faster than you remember before you got Apple's latest update. While you may be quick to point to the update itself as the culprit, there are several reasons why you may notice your battery draining a little faster in the days following the update. We have listed some reasons below and how you can solve…
Apple promotes the benefits of using iPhone 14 with eSIM while traveling abroad
Amid criticism from some customers regarding the removal of the SIM card tray on all iPhone 14 models sold in the US, Apple today published a new support document outlining various "options and benefits" for using eSIMs while traveling abroad. Apple says an eSIM is more secure than a physical SIM card since it cannot be removed from a lost or stolen iPhone. Apple also says…