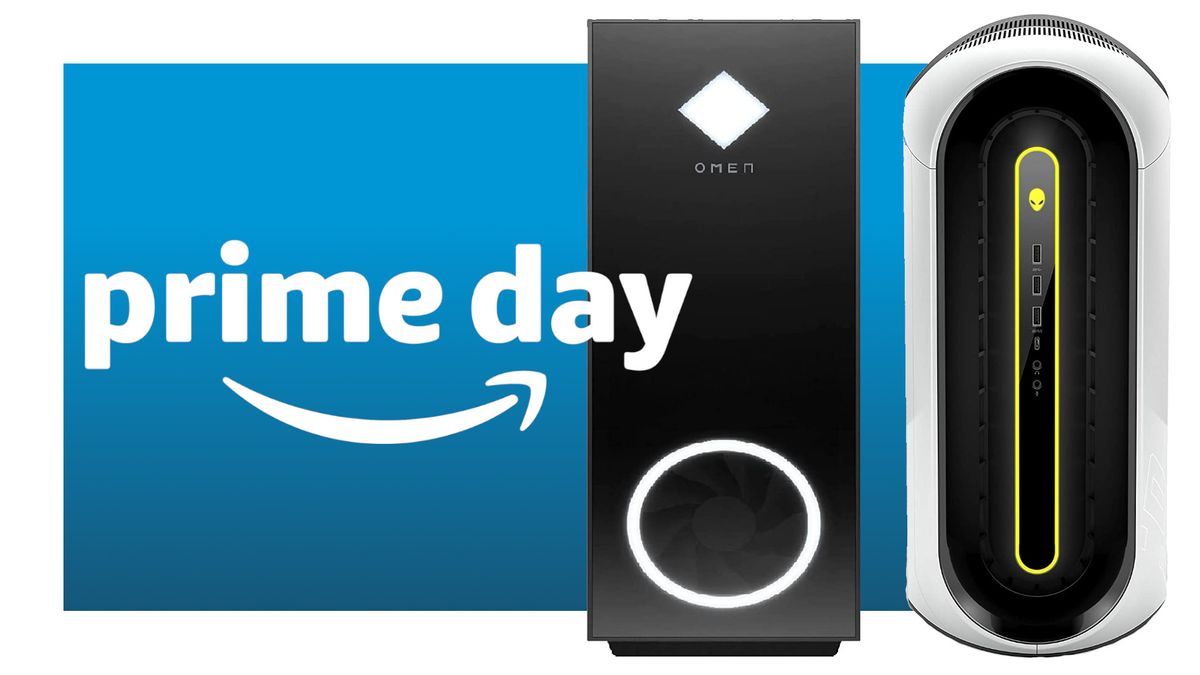 The second day of Amazon Prime Day (opens in a new tab) gaming PC deals are here and amazingly there are still a number of great machines available at discounted prices. We probably won't see many more added here, so if one is sitting in your cart right now, we suggest hitting buy before the deals disappear for the summer.
However, consider that the next wave of AMD, Intel, and Nvidia CPUs and GPUs is on the horizon, which means retailers are scrambling to sell off gaming PCs with older components before they're eclipsed. Don't get me wrong, the components will stay relevant for a while, you just have to come to terms with the fact that you are a generation behind. For the price some of these are going for, you can probably put that fact behind you, rather than splash out on the next generation immediately, right?
First is the GPU shortage finally decreases. While we're not quite in MSRP territory, many graphics cards are damn close. This means that system builders should be able to lower prices even more. Not just $100 here and there, but real significant savings.
The second factor is the upcoming next generation of graphics cards. With those landing before the year is out, dealers are scrambling to get the current generation machines out the door. Pre-built machines with high-end GPUs such as RTX 3080, RTX 3080 Ti, Radeon RX 6900XT, etc. will most likely get discounts, as they will be replaced first. The next-gen offering looks to be a significant performance boost over the current standard, so expect higher-end machines to boast bigger savings.
Of course, the GPU makes up a large part of a gaming system's prowess, but it's not the only component that fuels the sales furnace. New CPUs from AMD are also coming towards the end of the year, and there is plenty of Intel's 11th generation CPU stock out there. On top of that, SSD prices continue to fall, and RAM has never been cheaper. Expect lots of deals, in fact.
We're still sending out our best scouting bots to find the best deals, and updating this page with the gaming PCs that appeal to us. So keep checking back to see what we've uncovered. Alternatively, if you're in the market for a laptop, check out the best Amazon Prime Day laptop deals (opens in a new tab).
When does Amazon Prime Day 2022 end?
The official answer is that Prime Day 2022 ends at 11.59pm on Wednesday 13 July. But the more complicated answer is that it depends on your time zone. In the United States, Amazon Prime Day ends at 11:59 PM PDT Wednesday July 13thbut it actually is 2:59 a.m. EDT Thursday, July 14.
In the UK, there is a more reasonable cut-off at 23.59 BST Wednesday 13 July.
But that's all for Amazon's own specific deals, and we expect to see deals from the likes of Newegg and Best Buy stick around a bit longer.
Where are the best Prime Day gaming PC deals?
Amazon – Save up to $460 on RTX 3070 gaming PCs already

(opens in a new tab)

The PC Gamer's Favorite Desktop PC – Alienware Aurora PCs from $1,176

(opens in a new tab)

RTX 3080 – iBuyPower Gaming RDY S6MBG201| $2399 $1,899 at iBuyPower (Save $400)

(opens in a new tab)

RTX 3070 – Skytech Shiva | $1,899.99 $1,439.99 at Amazon (save $460)

(opens in a new tab)

RX 6700 XT – Alienware Aurora R10 | $1,699.99 $1,175.99 at Dell (Save $524)

(opens in a new tab)

RTX 3060 Ti – ABS Master Gaming PC | $1,699.99 $1,399.99 at Newegg (save $300)

(opens in a new tab)

RTX 3060 – HP Pavilion | $899.99 $699 at Walmart (Save $200)

(opens in a new tab)

iBuyPower – Fast delivery on machines with up to $360 off

(opens in a new tab)

Best Buy – Save up to $300 on gaming desktops

(opens in a new tab)

Lenovo – Legion Tower 7i with RTX 3070 $2,239.99 $1,599.99

(opens in a new tab)

Newegg – ABS Gaming PCs starting at $1250

(opens in a new tab)

Microsoft – Save up to $500 on desktop and laptop computers

(opens in a new tab)

Dell – Save up to $690 on Alienware PCs

(opens in a new tab)

HP – Gaming PCs from $550

(opens in a new tab)

Corsair – Up to $800 of Corsair's gaming PCs

(opens in a new tab)

NZXT – Affordable gaming PCs starting at just $799

(opens in a new tab)

Walmart – Tons of RTX 3060 Gaming PCs starting here $699

(opens in a new tab)

B&H Photo – Slots that start at $799

(opens in a new tab)
Amazon Prime Day gaming PC deals
Amazon Prime Day Office PC Deals
Amazon Prime Day UK Gaming PCs